Felicia Low Grain Sensitive Care 2 Kg Adult Cat Food with Lamb
BD 4.000
BD

4.000

BD

3.700

8%

BD

3.700
Overall you save

BD

0.300

(8%)

on this product
Out of Stock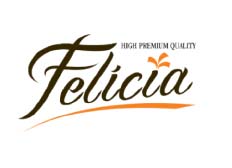 Highlights:
Felicia® Low Grain and Hypoallergenic Adult Cat Lamb
We know that our lovely friend is special and sensitive about nutrition.

Felicia, which has highly digestible animal protein sources, has been specially developed against digestive and allergy sensitivities. 

Free from beef, dairy products, wheat, soy, potatoes, artificial sweeteners, colors, chemical flavors and 

GMOs

 associated with allergic reactions 

Felicia Adult Lamb is specially formulated for our friends who cannot tolerate traditional protein sources and ingredients.

We are ready to meet your expectations in the best way with this formula that contains the optimum protein from real lamb and the special vitamins your cat needs.

Cranberry fruit, vitamins E & C help neutralize the harmful effects of free radicals. 

It supports a longer life span. All Felicia formulas to ensure optimum nutrition

It offers our friends a healthy and balanced diet with the highest quality ingredients.
Contents:
Dried Lamb Protein (27%),

Hydrolyzed Lamb Protein (18%),

Baldo Rice, Corn, Refined Chicken Oil,

Peas, Anchovy Flour, Shrimp Flour, Brewer's Yeast,

Anchovy Oil, Nucleotide Yeast Protein, Minerals,

Prebiotic Mannan Oligo Saccharides, Seaweed,

Yucca Extract, Cranberry Powder, Psyllium.
Analytical Components:
Protein: 33%

Fat Content: 15%

Raw Ash: 8%

Crude Cellulose: 2.5%

Omega-6: 3.7%

Omega-3: 0.75%
Vitamins and Other Supplements: 
Vitamin A (E672): 25,000 IU/kg

Vitamin D3 (E671): 1,500 IU/kg

Vitamin E (3a700): 150 mg/kg

Vitamin C: 25 mg/kg

Niacin (3a314): 50 mg/kg

Taurine: 2,200 mg/kg

Copper (As Sulphate)(E4): 18 mg/kg

Zinc (As Sulphate)(E6): 95 mg/kg

Zinc (As Chelate)(E6): 20 mg/kg

Manganese (As Sulphate)(E5): 30 mg/kg

Selenium (as Selenite)(E8): 0.3 mg/kg



Compare