Felicia Low Grain 15 Kg Puppy Lamb M-Large Breed Dog Food
BD 17.000
BD

17.000

BD

17.000

BD

17.000
Out of Stock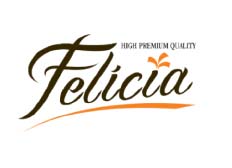 Highlights:
Felicia Medium&Large Puppy: 
Keeping your puppy's development and condition at the highest level thanks to its special formula developed for large breed puppies,

It has been specially formulated to support the development of internal and external protective systems and to meet all nutritional needs.

Optimal protein from real lamb supports strong and healthy muscle building.

In addition, it helps the development of joint functions and regeneration of connective and cartilage tissues with the glucosamine & chondroitin supplement it contains.
With Regular Consumption :

Our lovely friend

The immune system is strengthened,

Fecal quantity and odor decreased,

Strong and shiny feathers are formed,

Urinary tract and kidney health is protected,

You can observe that its digestibility has increased and it has reached a dynamic body structure.

Contents: 
Dried lamb protein (29%),

Hydrolyzed boneless lamb protein (21%),

Baldo rice, Corn, Refined chicken oil, Pea, Anchovy meal,

Brewer's yeast, Anchovy oil, Carob, Nucleotide yeast protein,

Dried sugar beet, Minerals,

Prebiotic mannan oligosaccharides, Seaweed,

Blueberry powder, yucca extract,

Psyllium, Marigold powder.
Analytical Components:

Protein: 30%

Fat content: 15%

Raw ash: 8%

Crude fiber: 2.2%

Omega-6: 3.6%

Omega-3: 0.75%
Vitamins and Other Supplements: 
Vitamin A (E672): 30,000 Iu/kg

Vitamin D3 (E671): 1,800 Iu/kg

Vitamin E (3a700): 480 mg/kg

Vitamin C: 240 mg/kg

Niacin: 24 mg/kg

Copper (as Sulphate): 15 mg/kg

Zinc (as Sulphate): 80 mg/kg

Zinc (as Chelate): 20 mg/kg

Manganese (as Sulphate): 27 mg/kg

Selenium (as Selenite): 0.26 mg/kg

Glucosamine: 1,700 mg/kg

Chondroitin: 1,200 mg/kg

EU approved oxidants
Compare