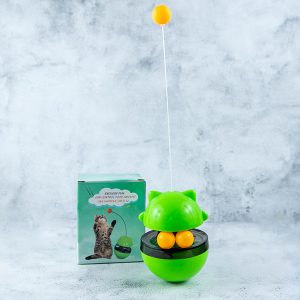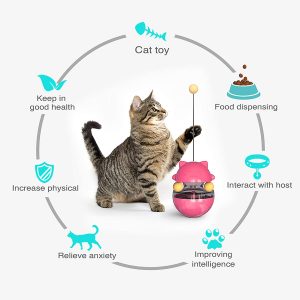 Highlights:
Multi function cat toy. Can be used as a slow feed PR food dispensing toys, turntable cat toys, tumbler pet toys, can be rotated 360° by the cat's push. It can also be used as an interactive cat Teaser stick. Note: because the ball stick is hand-assembled in the toy, there is a possibility that it will come off during intense interaction with the toy.

[Adjustable food leakage hole] Open the top cover of the toy and put cat food or snacks into the toy. 

[Food Dispensing Toy]This is not only an ordinary cat toy, but also a cat puzzle toy. Cats will do everything possible to shake toys, so that snacks leak from toys, which will increase the cat's IQ.

[No toppling toy] There is a counterweight at the bottom of the toy, no matter how the cat uses it, it will not topple. There is a track in the middle of the toy. There are two plastic balls on the track that can rotate around the track. The cat can move back and forth with a little push to attract more interest.