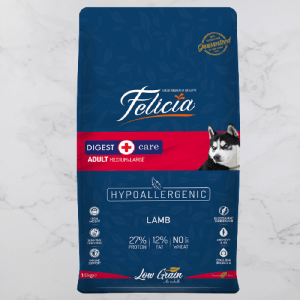 Highlights:
Felicia Medium-large Adult Lamb: Felicia Adult Lamb is a special food for sensitive adult dogs. It meets all the special needs of adult large breeds by blending the optimum protein content from real lamb with the flavor of anchovy fish. Because large breed dogs are prone to joint problems, Felicia Adult Lamb is highly enriched with glucosamine and chondroitin. In addition, the combination of Omega 3-6 fatty acids it contains contributes to the formation of lively, silky and shiny hair while supporting the protection of healthy skin.
With regular consumption :
Our lovely friend;
The immune system is strengthened,

Fecal quantity and odor decreased,

Strong and shiny feathers are formed,

Urinary tract and kidney health is protected,

You can observe that its digestibility has increased and it has reached a dynamic body structure.
Ingredients:  Dehydrated lamb protein (24%), Hydrolyzed boneless lamb protein (17%), Baldo rice, Corn, Refined chicken fat, Pea, Anchovy meal, Brewer's yeast, Anchovy oil, Carob, Nucleotide yeast protein, Dried sugar beet, Minerals , Prebiotic mannan oligosaccharides, Seaweed, Blueberry powder, Yucca extract, Psyllium, Marigold powder.
Analytical Components:
Protein: 27%
Fat content: 12%
Raw ash: 8%
Crude fiber: 2.5%
Omega-6: 3.5%
Omega-3: 0.7%
Additions:
Vitamin A (E672): 20,000 Iu/kg
Vitamin D3 (E671): 1,500 Iu/kg
Vitamin E (3a700): 360 mg/kg
Vitamin C: 160 mg/kg
Niacin: 16 mg/kg
Copper (as Sulphate): 15mg/kg
Zinc (as Sulphate): 80 mg/kg
Zinc (as Chelate): 20 mg/kg
Manganese (as Sulphate): 27 mg/kg
Selenium (as Selenite): 0.26 mg/kg
Glucosamine: 1,000 mg/kg
Chondroitin: 700 mg/kg
EU approved oxidants